Fuel the Fire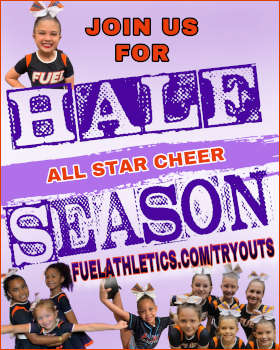 Fuel Athletics is an All-Star Cheerleading and All-Star Dance gym located in Altamonte Springs, Florida. We serve all of Orlando including Altamonte Springs, Longwood, Casselberry, Winter Park and surrounding areas.
Founded in 2014, Fuel was designed from the ground up to be a better program. We demand a safe, positive and fulfilling environment for our athletes and we demand coaches that are the best at what they do, not just by accomplishments, but by who they are and what they bring to those around them.
After four straight years of growth, Fuel is proud to be the second largest All-Star Cheerleading gym in Central Florida. This season we are offering Full Season Cheerleading teams ranging from level one to level six and Half Season Cheerleading teams from level one to level three.
Why we're different:
Competition Cheerleading is very popular, especially in Orlando and Central Florida. There are many cheer programs, some good and some bad. We are one of the good ones, and here are a few reasons why:
We're a family: We don't scream at our athletes and tell them that they are replaceable. We are genuine and committed to being a positive influence in the lives of our athletes.
Safety is critical: Teaching skills properly and with proper skill progressions is key. We don't force athletes to do skills that they are not prepared for and we don't compete injured athletes in ways that will further injure them. Winning is great, but not at the cost of our athletes.
We progress: Stuck at the same level with no new skills for three years? Stuck at a gym that will not teach you new skills without spending money on private lessons? Not at FUEL. We encourage our athletes to learn new skills and we will safely teach them how to do it.
We're affordable: Some gyms in Orlando are affordable and some are really expensive. When researching gyms make sure you ask about tuition, uniforms and competition fees. Find out if you will have to travel for competitions and what the associated costs will be. Our programs are affordable and we are upfront about any additional costs. 

We also reuse our uniforms for multiple years, unlike some gyms that make you purchase multiple uniforms per year, which can cost you thousands of dollars.
What is All-Star Cheerleading?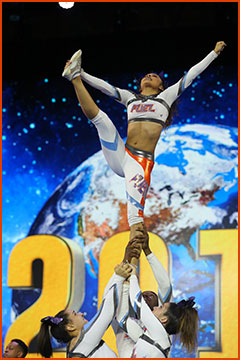 All-Star cheerleading is an athletic activity that combines traditional cheerleading skills with elements of tumbling and dance. Teams of up to 36 athletes perform professionally choreographed 2.5 minute routines set to music. All-Star Cheerleading is NOT sideline cheerleading. It's not a populatiry contest and the athletes are not cheering for football or basketball teams. All-Star Cheerleaders are athletes in the truest sense of the word and routinely perform high-level skills that take years of training to master.
Florida and the southeast is especially popular for All-Star Cheerleading and is host to many national and international cheerleading and dance championships.
Past Events: